Welcome to Our Service Department
With the Proper Care, Your Car Can Really Go the Distance. Scaffidi is here to make this happen!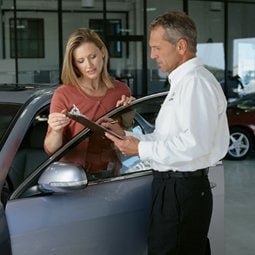 Regardless of what make or model you drive, whether you purchased it in brand new condition or previously owned, your car is an investment! You want to protect that investment to the best of your ability and at Scaffidi you can do that! Keeping the performance, appearance and mechanical integrity of your vehicle isn't as complicated as it may sound when you let the professionally trained and certified technicians at Scaffidi take care of you. We want you get the most of your investment and feel confident!
Having the necessary services performed at the proper mileage intervals is very important and that service should always be conducted by those who really understand the ins and outs of your particular make and model.  That's why Scaffidi Service is the right choice!
We take pride knowing the experience and the expertise provided will ensure that you are getting the finest auto service or repair necessary.  We are committed to using the genuine, OEM-approved parts and accessories which have been meticulously crafted to mimic the fit and finish of your vehicle's original equipment. All our work is done by our professionally trained, certified, and award winning technicians.
If you would like to know more about Scaffidi Service or schedule an appointment, please call or stop by our store today! Or conveniently schedule your appointment online!
One last bonus about doing service with Scaffidi is that we have a free shuttle! We recognize the busy schedules of our customers which is why we provide an alternate way of transportation while your vehicle is being serviced at Scaffidi.  We also have a newly remodeled waiting area with a luxurious fireplace and big screen TV. We also provide free WIFI for all Scaffidi customers.
Your privacy is important to us.
Our Dealership takes your privacy seriously and does not rent or sell your personal information to third parties without your consent. Read our privacy policy.