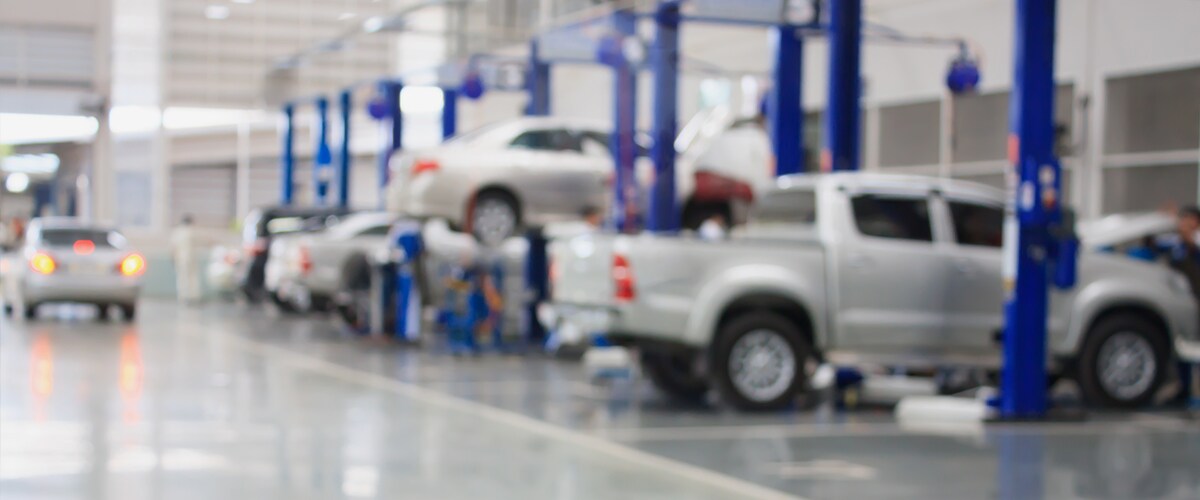 Service Department
at Scaffidi Ford
Welcome to Our Service Department
---
Regardless of what make or model you drive, whether you purchased it in brand new condition or previously owned, your car is an investment! You want to protect that investment to the best of your ability and at Scaffidi you can do that! Keeping the performance, appearance and mechanical integrity of your vehicle isn't as complicated as it may sound when you let the professionally trained and certified technicians at Scaffidi take care of you. We want you get the most of your investment and feel confident!
Having the necessary services performed at the proper mileage intervals is very important and that service should always be conducted by those who really understand the ins and outs of your particular make and model.  That's why Scaffidi Service is the right choice!
We take pride knowing the experience and the expertise provided will ensure that you are getting the finest auto service or repair necessary.  We are committed to using the genuine, OEM-approved parts and accessories which have been meticulously crafted to mimic the fit and finish of your vehicle's original equipment. All our work is done by our professionally trained, certified, and award winning technicians.
If you would like to know more about Scaffidi Service or schedule an appointment, please call or stop by our store today! Or conveniently schedule your appointment online!
One last bonus about doing service with Scaffidi is that we have a free shuttle! We recognize the busy schedules of our customers which is why we provide an alternate way of transportation while your vehicle is being serviced at Scaffidi.  We also have a newly remodeled waiting area with a luxurious fireplace and big screen TV. We also provide free WIFI for all Scaffidi customers.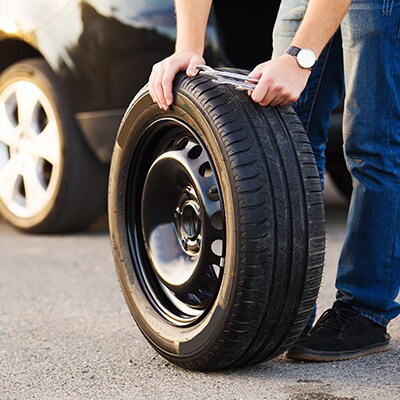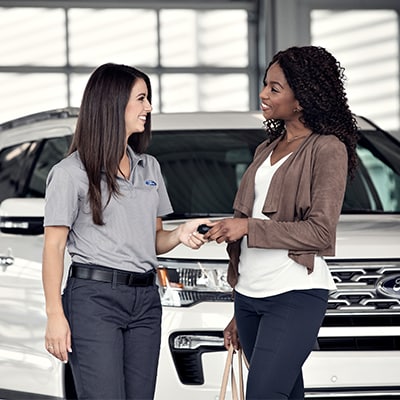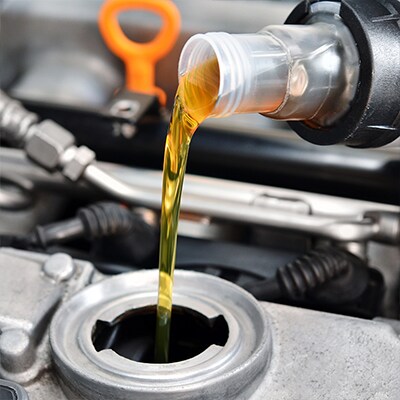 Maintaining your vehicle
Routine maintenance, such as oil changes, having fluids checked/flushed and tune‐ups, can greatly increase your vehicle's performance and reliability as well as greatly extend its life. Failing to properly service your vehicle can result in increased repair costs, as well as greatly reduce its value for a future sale or trade‐in.
Oil change
Today's vehicle engines generally have extended oil‐change intervals beyond 3,000 miles, so it is recommended that you consult the specific maintenance schedule interval in your vehicle's owner manual.
At Elyria Ford, an oil change is so much more than just an oil change. When you come in for The Works,® you receive a complete vehicle checkup that includes a synthetic blend oil change, tire rotation and pressure check, brake inspection, Multi‐Point Inspection, fluid top‐off, battery test, and filter, belts and hoses check – all for a very competitive price.
Oil Details
Fluid levels
Having your fluids topped off is simple and can be performed in just a few minutes. These include oil, radiator, transmission, power steering, windshield washer and brake fluid.
Filters
Your vehicle's filters should be changed every 15K‐30K miles. Most can be inspected and replaced during a routine oil change. These include the engine air filter, oil filter, fuel filter and cabin air filter.
Spark plugs
Your spark plugs should be changed every 100K miles. A bit more complicated than a routine oil change, the time and cost will depend on the year, make and model of your vehicle.
Batteries
Today's vehicles are loaded with technology. That's why it's more important than ever to ensure your battery operates at peak performance. At Elyria Ford, we know exactly what battery is needed for your specific vehicle and can help guide you through what can be a somewhat complex process.
Battery Service Advice
Brakes
​
Brake issues can start out small but worsen over time. Waiting to have them repaired can greatly increase the costs involved. Having your brakes inspected during a routine maintenance visit can help save you both time and money.
Discs should be inspected for rough spots, warping or damage. If they are shiny and show little signs of wear, maintenance is likely not needed. If they are damaged or warped, these parts should be resurfaced or replaced immediately.
Your vehicle has rubber and metal brake lines and both can crack and leak. Our technicians will first examine the rubber hoses to ensure they are soft and don't have cracks. They'll then check the hard metal brake lines for corrosion and leaking. If either is damaged, replacement is recommended.
Brake Details
Belts and hoses
Belts and hoses play an integral part in your vehicle's performance. As belts age, the rubber becomes brittle, causing it to crack. If the belt is showing signs of wear on its outer edge, this is also a sign that it will need to be replaced.
Since coolant temperature is about 200 degrees, the hoses that carry it are extremely important. A belt or hose failure can cause loss of both power steering and the electrical charging system, as well as an overheated engine. If your engine overheats, this can cause the cylinder heads to warp, resulting in a very expensive repair.
Hoses are generally inspected for softness and swelling, hardening, cracks, chafing and heat damage. If any of these issues are detected, your hoses will need to be replaced.
Tires
​Maintaining your tires not only helps keep you safe, it also helps your vehicle run more efficiently and extends the life of the tires themselves. Following these simple steps will help ensure you get the most out of your tires:
Have your tires rotated every 5,000 to 8,000 miles – see tire manufacturer for specific recommendations.

Check the pressure of all tires, including your spare, at least once a month when the tires are "cold," meaning that the vehicle hasn't been driven for at least three hours. Recommended air pressure for your tires can be found on the placard typically placed on the driver's side doorjamb.

Have your tires inspected during every service visit.
Tire Care Advice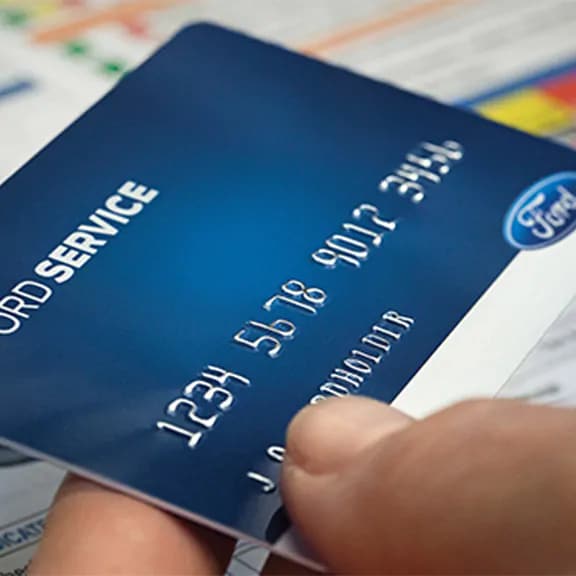 The Ford Service Credit Card
The Ford Service Credit Card is a financing option that lets you pay for all service maintenance and repairs, including tire purchases and installation at Elyria Ford and other Ford Dealers across the U.S. It only takes a few minutes to apply and receive the decision.

Upon credit approval, you'll be provided with a credit line to assist you with all instore purchases, including:
Ford Motorcraft® batteries
Parts
Accessories
Tires
Extended service plans
Rental vehicle
Body shop repairs/deductions
And more
Plus, you get to take advantage of great rebate offers. Right now, each time you spend $250 or more (before tax) on your Ford Service Credit Card, you can earn a $25 prepaid card by mail‐in rebate.* Offer valid for new and existing Ford customers.
*Subject to credit approval. Rebate valid on qualifying purchase before tax; not valid on prior purchases. Complete purchase must be made on the Ford Service Credit Card. Submit rebate by 01/31/2019 by mail-in rebate form or online at fordowner.com. Limit one $25 mail-in rebate per visit. Rebate by prepaid debit card. Cannot be combined with other Ford Service Credit Card offers. See participating dealership for rebate details.
Hours
Monday

8:30AM - 8:00PM

Tuesday

8:30AM - 5:00PM

Wednesday

8:30AM - 8:00PM

Thursday

8:30AM - 8:00PM

Friday

8:30AM - 5:00PM

Saturday

8:30AM - 3:00PM

Sunday

Closed